Chloe Venge: Wine Dog Extraordinaire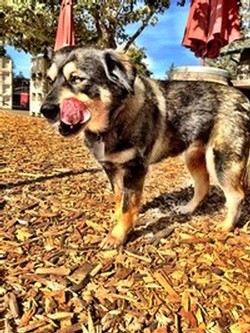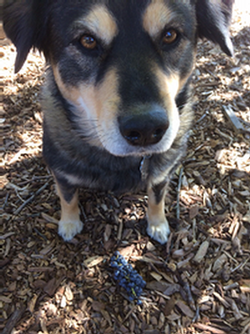 Chloe was born on July 23, 2012 in Lake County, California about 30 miles from her current home. Chloe's mother was a Malamute, owned by long-time friends of Nils, and her father was an Australian shepherd who jumped the fence one day: a nice blend, inspiring Nils to bring her on board. Nils gave Chloe lifetime Vineyard Dog status, one of the best gigs out there.
When Chloe isn't lounging on Saddleback's dog-friendly patio with visitors and their pooches, she can be found at home relaxing in her large Napa backyard, or up in the Sierras, playing in the snow during the winter, and the lakes during the summer. It is quite the life for this vineyard dog. Her iconic image even graces the preeminent coffee table book of Napa – Winery Dogs of Napa Valley.
Among Chloe's favorite things is meeting new guests at the winery: she is our first and best greeter! She's also fantastic at entertaining friendly guest dogs. Her quiet demeanor has her laying in the Napa Valley sunshine a bit too much, so no feeding Chloe your crackers or lunch scraps. She is watching her figure and needs to be careful with what she eats. She is, however, very huggable in her fluffy state, and loves pets and scratches. Beware! Her deep puppy stare will make you fall in love.
Come by the winery and say hi to Chloe while sipping her namesake wine - Chloe's Blend.
Photogallery rendered here.