Chloe Venge: Wine Dog Extraordinaire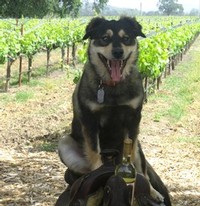 Chloe was born on July, 23rd 2012 in Lake County, California about 30 miles from her current home. Chloe's mother was a Malamute, owned by a long-time friends of Nils, and her father was an Australian shepherd who jumped the fence one day. Three months later, Chloe and her siblings were born. Nils was contacted and he choose to give Chloe a lifetime vineyard dog status, one of the best dog gigs out there.
When Chloe isn't lounging on Saddleback's dog-friendly patio with visitors and their pooches she can be found at home relaxing in her large Napa backyard or up in the Sierra's playing in the snow during the winter and the lakes during the summer. It is quite the life for this vineyard dog. She has even been published, being featured in a couple issues of the preeminent coffee table book in Napa – Winery Dogs of Napa Valley.
Among Chloe's favorite things are playing in the snow, her squeaky-duck toy, hot dogs, and lying alongside the road (we are trying to break her of this bad habit!). She recently learned how to catch a frisbee and is still working on the ins and outs of fetch. She also enjoys barking at bicyclists, deer, and tractors.
Come by the winery and say hi to Chloe and try her namesake wine - Chloe's Blend.
Photogallery rendered here.