Saddleback's Wine Club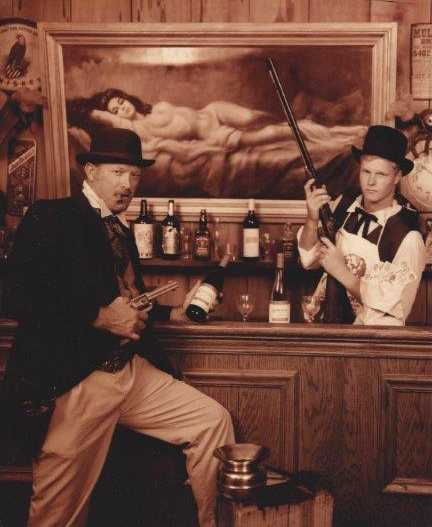 Always wanted to be a posse member? Here's your chance! We're lookin' for recruits. Depending on your tolerance, join us at the Deputy, Sheriff, and Marshal levels, shipping 4 times per calendar year.
Magnum Club - 1 1.5-Liter (Magnum) Cabernet / Spring Shipment
Benefits: Posse members get 20% off wine purchases, free tastings for the member plus 3 guests, and free passes to our release parties
Featuring unique, small-batch varietals, our Posse club allows you to explore the wine world from the saddle. Never heard of Charbono, Vermentino or Sangiovese? Try some of the best at an attractive price. Encounter a new varietal sent alongside Saddleback favorites like Old Vine Zinfandel, Cabernet Sauvignon, and Chardonnay. Our limited production means you'll best find Saddleback wines direct from the winery. Join today and whet your whistle!
NEW! Magnum Club add-on: we'll ship the latest vintage of our Oakville Cabernet in a beautiful 1.5-liter bottle when you sign up for this annual shipment, which is delivered with the Spring/March allocation. At present, to add this rare bottle to your current membership or new Posse signup, please email or call the winery (707) 944-1305, as soon as possible so we may ensure your order is allocated.
Customizing: We currently have an "ALL REDS" Posse for each level. If you're favorites are our white wines, the minimum shipment is 4 bottles at the Deputy level. Please give us a call for options. Any shipment can be customized as long as notification via email or phone is made prior to the announced billing date -- any Posse order can be made into a case to enjoy shipping savings of at least $40 in ground shipping charges, a great idea around the holidays!
Subscription Frequency: Posse shipments arrive at your doorstep in March, May, October, and December. As a Posse member, a phone call will always get you a re-order, and maybe even a bonus discount if you're re-ordering from that last shipment!
Shipping Restrictions: Due to current shipping restrictions, we can no longer accept Posse applications shipping to the following states: AK, HI, KY, MS, UT.