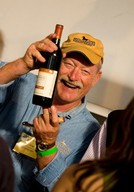 Welcome to Saddleback Cellars!
Located in the heart of Napa Valley, Saddleback Cellars was founded by acclaimed winemaker Nils Venge. Nils got his start in Napa Valley in 1970 and has been creating award winning wines at Saddleback since 1981. He is known as the "King of Cabs" due to being the first American to receive a 100 point score from wine-critic extraodinaire Robert Parker Jr. for making a 1985 Cabernet Sauvignon.
The Oakville A.V.A. (American Viticultural Area) lies in the middle of the valley and is well known for its stunning Cabernet Sauvignons. Our first love is Cabernet Sauvignon and it is the focal point of the winery; although we make a variety of wonderful wines both from our estate vineyard in Oakville along with many small lots of varietals from Napa that include: Chardonnay, Pinot Blanc, Pinot Grigio, Merlot and Zinfandel – and even smaller lots, made especially for our Posse Wine Club, which include: Marsanne, Grenache Blanc, Charbono, Petit Verdot and Cabernet Franc to name of few.