Oakville Cabernet Vertical: 2012, 2013, 2014
3-Bottle Cabernet Gift Pack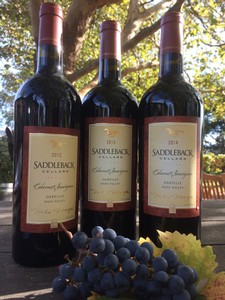 *Sold Out* A genuine "best gift" -- our 3-Pack Cabernet Vertical hailing from three laudable vintages here in Oakville is now available in very limited quantities. These are sourced primarily from our 8 acres of Cabernet Sauvignon here on Saddleback property.
2012: One of the most approachable, easy-going Cabernets to come out of Napa Valley in years. A robust nose of plum, a silky body delivers bright black cherry on the palate and a delightful, lilting finish that lingers. Never pushy, and always charming.
2013: A bit more sneaky and stern, this Cabernet vintage brings bright cherry and graphite on the nose. A bit more withdrawn and vibrant on the palate, fruit evokes rich and robust dark berry, leather and light oak on the palate, with a hint of vanilla on finish. Very much a curve ball and for its next 15 years in bottle we're excited to find out where it's going to go.
2014: A warm and inviting lane on the palate that has it delicious now, and worthy of aging 20 years. On the nose, pleasing aromas of black currant and anise. On the palate, it approaches with a warm, soft, full mouthfeel, where engaging tannins balance gracefully with ripe raspberry compote, and a hint of cassis. This wine is a straightforward stunner. A flavorful finish is generous with lingering notes of chocolate.