2018 Saddleback Advent Calendar Wine.A.Day Set
25 Unique Vintages to Celebrate with Wine for the Holidays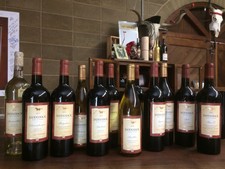 Here you finally have it: A collection of 25 gorgeous wines paired perfectly for each day of the holiday season to ensure you have everything you need to entertain, drop-in, enjoy, and outlast December 2018. Just ask Nils: never enough Saddleback to go around.
Each wine is carefully chosen for an event or calendar day, with tasting notes and pairing ideas.
You can even switch-in for "party size," Magnums or 3-Liter bottles, for certain wines, such as the Anniversary Cabernets or the 2011 Reserve Cabernet. If you've never brought a magnum to a party -- you haven't lived and the time has come!
Find hang tags for each wine that offers description and day/date pairing suggestion. Feel free to mix and match as fits your calendar! Family parties, favorite coworker get-togethers, short romantic weekends, to the perfect wine to sip by the fireplace after shopping. Our team has been there and confidently recommends which bottle is best.
Only 15 Calendar Sets exist.
Posse discount does apply.
---Contains---
23 x 750ml bottles, plus 2 x 500ml bottles, as ordered. Call for switchouts (equal or greater value wines) or larger format upgrades and availabilities (Magnums, 3-Liter Bottles).
Ground shipping is included except to the following states: AK, HI, KY where shipping costs will be charged at cost. Not available to ship to UT. Sorry, Utah.
*note: picture shown does not represent all vintages in this offer. Here is a listing, however due to inventory variations, Saddleback reserves the right to replace a sold out item with another of newer vintage or at least equal or greater value:
2006 25th Anniversary Cabernet Sauvignon SBCNCS06B, 2011 Late Harvest Chardonnay SDCH115N,
2016 Sangiacomo Vineyard Chardonnay SDCH167B, 2016 Napa Valley Chardonnay 750ml SDCH167S,
2015 Chloe's Blend SDCL157S, 2011 30th Anniversary Cabernet Sauvignon SDCS117A,
2011 Napa Valley Reserve Cabernet Sauvignon SDCS117R, 2012 Reserve Cabernet Sauvignon SDCS127R,
2013 Reserve Cabernet Sauvignon 750ml SDCS137R, 2013 Oakville Cabernet Sauvignon 750 ml SDCS137S,
2014 Oakville Cabernet Sauvignon SDCS147S, 2017 Freisa Rosé SDFR177S,
2016 Grenache, Frediani Vineyard, Napa Valley SDGR167B, 2015 Malbec, Mello Vineyard, Yountville SDMA157B,
2015 Oakville Merlot 750ml SDMR157S,2016 Pinot Blanc SDPB167S, 2017 Pinot Grigio - Oakville Estate SDPG177S,
2015 Petit Verdot SDPV157B, 2017 Sauvignon Blanc SDSB177S, 2014 Syrah SDSY147S, 2015 Late Harvest Trousseau SDTR155N,
2015 Saddleback Three Ts SDTT157B, 2017 Vermentino SDVM177S, 2016 Zinfandel 750 ml SDZN167S.