2018 Estate Pinot Grigio 6pk
2018 Estate Pinot Grigio 6pk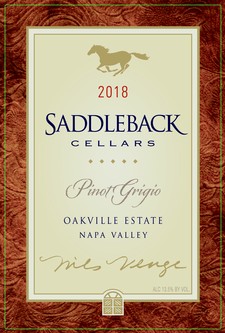 Uniquely Saddleback, this Oakville-grown Pinot Grigio is distinctive and a rare find indeed. Planted on the property in 1995, the fruit from these treasured vines produces a delightful white wine full of character, thanks to a careful harvest at the peak of ripeness and neutral-oak barrel aging.
Clean and bright, the kiss of oak does not hinder the freshness of flavor: lightly acidic on the nose, but not steely at all on the palate. Lemon curd and a hint of ginger are finished with a light dusting of slate, to finish dry.
Works nicely as a welcome wine, packs light for a day on the boat, picnics, or barbecues. Pair with: Spaghetti Carbonera, BLT sandwiches, roast summer vegetables, ham & gruyere frittata, Thai noodle salad, creamy, tangy cheeses. Only 76 cases made.