We're Celebrating Our New Vintage
with a host of amazing online offers for a limited time.
Our fans will tell you: Take advantage today!
Our Posse Wine Club Members receive 20% off wines, and first dibs on the favorites.
JOIN TODAY!
Need a nifty gift? We drop-ship. You can add a gift message and specify a different ship-to address with every order.
Direct to the winery: (707) 944-1305 | Shoot us an email: info@saddlebackcellars.com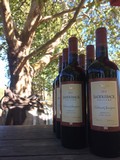 Limited Time Offer!