The Oakville AVA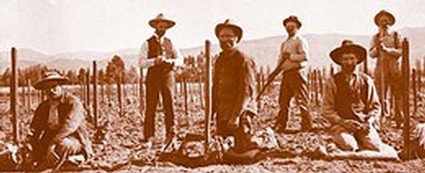 Today, Oakville encompases roughly 5,700 acres; however, its reputation is world renown. In 1836, the area of Oakville was part of a 12,000 acre land grant given to George C. Yount by Mexican General Mariano Vallejo. Yount named his vast holdings Rancho Caymus, which encompassed all of what is now Yountville, Oakville, and Rutherford. Up until 1861, cattle ranching had been the primary economic activity, but due to a harsh winter and severe droughts in the 1860s ranchers were forced to sell both livestock and land. Around this time grape growing became more prominent and by the mid-1860s Napa had 30 vineyards covering 1,000 acres of valley land and 50 recognized vinters.
In 1868, H.W. Crabb purchased 240 acres in Oakville where he grew more than 400 grape varietals. Considered one of the first true horticulturists in the Napa wine world, he was the first to grow Cabernet Sauvignon and Sauvignon Blanc. In 1886 Crabb named his winery and vineyard operations To Kalon, meaning "the beautiful" in Greek. Today the To Kalon vineyard is the most prized vineyard land in Napa Valley. Many vintners followed Crabb to Oakville and by 1887 there were over 1,000 acres of vines planted.
With a rich history and enviable soil and climate, Oakville boasts the greatest concentration of preeminent Cabernet Sauvignon producers in Napa Valley. Learn more about Oakville and all its producers from the Oakville Winegrowers
Today, Saddleback Cellars is proud to call powerhouse wine labels such as Silver Oak, Opus One, Plumpjack, B Cellars, Groth, Rudd, and Gargiulo neighbors. Oakville is home to some of the most prized wineries in Napa; spend a day or three exploring our stellar AVA.